The XP12000HX is the beast of the HX Series with 12,000 watts of POWER. This unit provides the power normally found in stationary home standby generators but in a more affordable, portable package! With a 460cc OHV DuroMax Engine, this workhorse is perfect for home backup and can power most household essentials such as lights, appliances, and even central A/C systems during any power outage, storm, or emergency event.
Gasoline
Peak Wattage
12,000
Running Wattage
9,500
Running Amperage at 120V
79.17
Running Amperage at 240V
39.58
Runtime at 25% Load
19
Runtime at 50% Load
9
Propane
Peak Wattage
11,400
Running Wattage
9,025
Running Amperage at 120V
75.21
Running Amperage at 240V
37.6
Runtime at 25% Load
14
Runtime at 50% Load
7
Engine & Emission Specifications
Engine Manufacturer
DuroMax Power Equipment
Engine Type
4-Stroke
Valve Type
OHV
Engine Cooling Type
Forced Air
Engine Size
457cc
Engine Speed
3600 RPM
Starting Type
Push Button
Electric Start
Yes
Recoil Start
Yes
Idle Control
No Load Low Idle
Fuel Delivery System
Carburetor
Fuel Types
Gasoline and Propane
Oil Cooling Type
Splash
Recommended Oil
10W-30
Recommended Oil Types
Blended, Conventional, or Synthetic
Oil Capacity
40.5 fluid oz
Suggested Propane Tank Size
40 lbs. minimum
Automatic Low Oil Shutdown
Yes
Cast Iron Sleeve
Yes
Bearing Type
Stainless Steel Ball Bearing
CO Sensor Shutdown
Yes
EPA Certified
Yes
CARB Certified
Yes
50 State Emissions
Yes
Panel Specifications
GFCI Outlets
Yes
Battery Switch
Yes
Volt Meter
Digital
Hour Meter
Yes
5-20R
4
L5-30R
1
L14-30R
1
14-50R
1
Generator Specifications
Manufacturer
DuroMax Power Equipment
Part #
XP12000HX
Voltage
120/240 Volts
Frequency
60 Hertz
GFCI Outlets
Yes
Propane Hose & Regulator
Included
Winding Material
100% Copper Windings
Automatic Voltage Regulator
Yes
Battery Type
12V SLA
Battery Included
Yes
RV Ready
Yes
Home Backup Ready
Yes
Fuel Tank Capacity Gasoline
8.3 Gallons
Fuel Gauge
Yes
All Metal Construction
Yes
Product Dimensions
29"-Long x 30"-Wide x 26"-High
Product Dry Weight
230-lbs
Product Weight
240-lbs
Volume (db)
74 dB
UPC
811640016227
Warranty
5 Year
Wheel & Handle Kit
Included
Wheel Type
Metal Hub
Wheel Diameter
10-Inches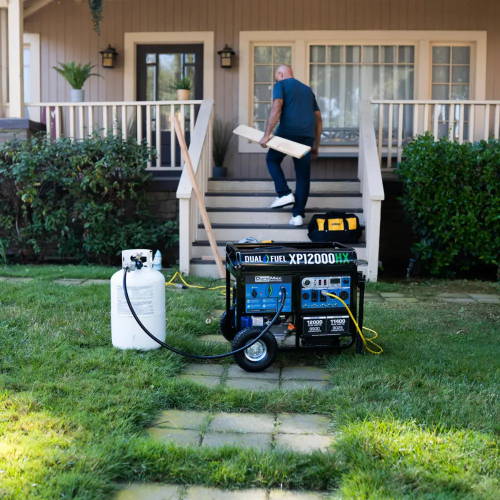 Introducing the DuroMax XP120000HX, a high-performance and reliable power generator designed to meet all your electricity needs with unparalleled efficiency. With its robust construction and cutting-edge features, this generator is the ultimate power solution for both residential and commercial use.
Powered by a formidable 457cc engine, the XP120000HX offers an impressive peak output of 12,000 watts, providing an ample power supply to keep your essential appliances, tools, and equipment running smoothly during power outages or in remote locations. Whether you're facing a sudden blackout or need reliable electricity for your construction site, this generator has got you covered.
One of the standout features of the XP120000HX is its advanced AVR (Automatic Voltage Regulator) system. This technology ensures a stable and clean power output, safeguarding your sensitive electronics from damaging power fluctuations. You can confidently connect your computers, TVs, and other delicate devices without worrying about unexpected surges or drops in voltage.
Thanks to its large 8.3-gallon fuel tank, this generator boasts an impressive runtime of up to 9 hours at 50% load. The fuel-efficient engine optimizes consumption, reducing the need for frequent refueling. Plus, the XP120000HX is equipped with a convenient electric start system, making it effortless to power up the generator with just the push of a button.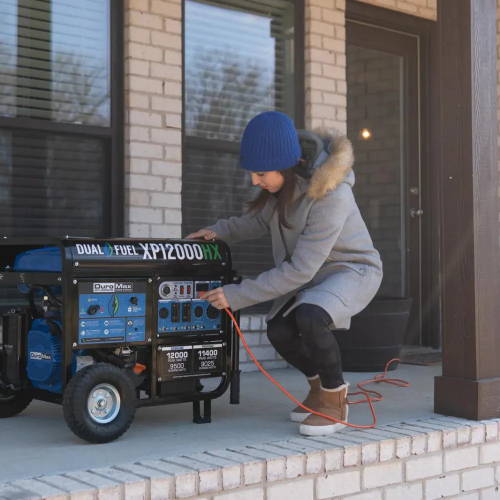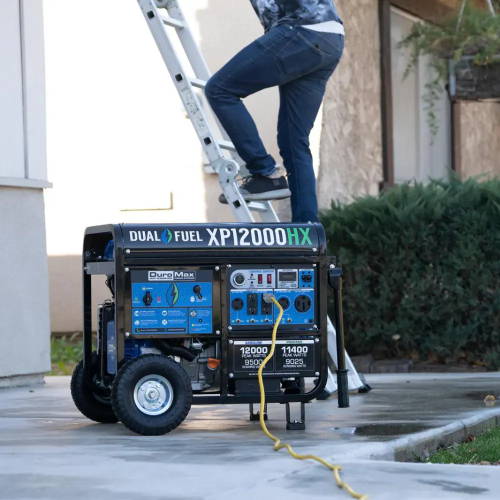 Designed for ease of use and portability, the XP120000HX features heavy-duty wheels and a sturdy foldable handle. Move the generator effortlessly from one location to another, whether it's in your backyard, at a job site, or during outdoor activities. The rugged steel frame ensures durability and protection, allowing this generator to withstand the rigors of demanding environments.
Safety is always a priority, and the XP120000HX doesn't disappoint. It comes equipped with multiple safety features, including low-oil shutoff and overload protection, which automatically shuts down the generator in case of oil deficiency or excessive load. This ensures the longevity of the engine and provides peace of mind, knowing that your generator is safeguarded from potential damage.