The DuroMax XP12000E provides power normally found in home standby units, but in a portable package. Producing over 12,000 watts, you can rest assured you will stay powered through any storm. With its 457cc OHV engine, you'll be able to run all your appliances and heavy-duty power tools with ease. The fully featured power panel offer includes a wide selection of outlets for maximum compatibility.
Sku
XP12000E
Brand
DuroMax
Gasoline
Peak Watts
12000
Running Watts
9500
Peak Amps at 120V
100
Running Amps at 120V
79.17
Peak Amps at 240V
50
Running Amps at 240V
39.58
Product Specifications
Amperage
79.17A / 39.58A
Voltage
120V / 240VAC and 12VDC
Frequency
60 hz
Engine Size
457cc
Engine Type
4 Cycle Air Cooled Spark Ignition
Engine Speed
3600 RPM
Fuel Type
Gasoline
Fuel Tank Capacity (Gasoline)
8.3 Gallons
Runtime (Gasoline) at 1/2 Load
8.83 Hours
Start Type
Electric / Recoil
Volume Level
74 dB
EPA Certified
Yes
CARB Certified
Yes
CSA
No
Product Dimensions(L x W x H)
30 in x 30 in x 26 in
Product Weight
217 lbs
With 12,000 watts of power, the XP12000E gasoline generator will keep your whole home running during a storm or power outage.
DuroMax generators feature an extra large fuel tank for maximum runtime. All DuroMax generators are approved for use in all 50 states by EPA and CARB, and follow strict guidelines to ensure our generators are as environmentally-friendly as possible.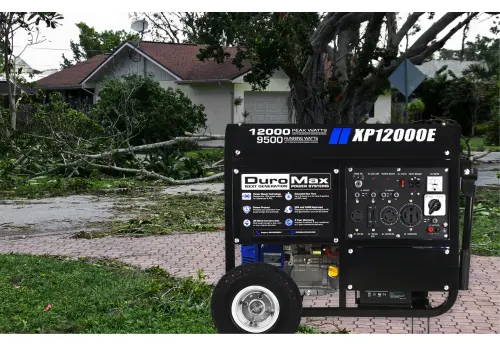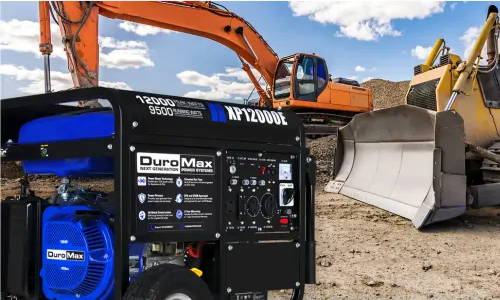 The XP12000E comes equipped with a wide variety of outlets, including a transfer switch-ready 50 amp outlet. This generator features our MX2 Power Boost, which doubles the 120V power for appliances and RVs. The XP12000E isbuilt to last with all metal construction, copper windings, and solid-filled tires.