Be ready for anything with the DuroMax XP10000E generator. Easy to transport over any terrain – from a camping trip in the woods to a downtown jobsite – the XP10000E will keep you going. The 439cc DuroMax OHV Engine starts up at 10,000 peak watts and runs at a constant 8,000 watts so you can run your home appliances, RV, and high-amperage tools with ease.
Gasoline
Peak Wattage
10,000
Running Wattage
8,000
Running Amperage at 120V
66.67
Running Amperage at 240V
33.33
Runtime at 25% Load
22
Runtime at 50% Load
10
Engine & Emission Specifications
Engine Manufacturer
DuroMax Power Equipment
Engine Type
4-Stroke
Valve Type
OHV
Engine Cooling Type
Forced Air
Engine Size
439cc
Engine Speed
3600 RPM
Starting Type
Key Switch
Electric Start
Yes
Recoil Start
Yes
Idle Control
No Load Low Idle
Fuel Delivery System
Carburetor
Fuel Types
Gasoline
Oil Cooling Type
Splash
Recommended Oil
10W-30
Recommended Oil Types
Blended, Conventional, or Synthetic
Oil Capacity
37.2 fluid oz
Automatic Low Oil Shutdown
Yes
Cast Iron Sleeve
Yes
Bearing Type
Stainless Steel Ball Bearing
CO Sensor Shutdown
Yes
EPA Certified
Yes
CARB Certified
Yes
50 State Emissions
Yes
Panel Specifications
GFCI Outlets
Yes
Volt Meter
Analog
5-20R
2
L5-30R
1
L14-30R
1
14-50R
1
12V Post
1
Generator Specifications
Manufacturer
DuroMax Power Equipment
Part #
XP10000E
Voltage
120/240 Volts
Frequency
60 Hertz
GFCI Outlets
Yes
Winding Material
100% Copper Windings
Automatic Voltage Regulator
Yes
Battery Type
12V SLA
Battery Included
Yes
RV Ready
Yes
Home Backup Ready
Yes
Fuel Tank Capacity Gasoline
8.3 Gallons
Fuel Gauge
Yes
All Metal Construction
Yes
Product Dimensions
29"-Long x 30"-Wide x 26"-High
Product Dry Weight
218-lbs
Product Weight
228-lbs
Volume (db)
72 dB
UPC
891784001006
Warranty
3 Year
Wheel & Handle Kit
Included
Wheel Type
Metal Hub
Wheel Diameter
10-Inches
Introducing the DuroMax XP10000E, the ultimate portable power solution that brings convenience and reliability to your fingertips. Designed to deliver unparalleled performance, this powerhouse generator is a must-have for both homeowners and professionals alike.
With a robust 439cc OHV engine, the XP10000E offers an impressive 10,000 watts of peak power and 8,000 watts of continuous power, ensuring you have more than enough electricity to keep your essential appliances and tools running smoothly during power outages or at remote job sites.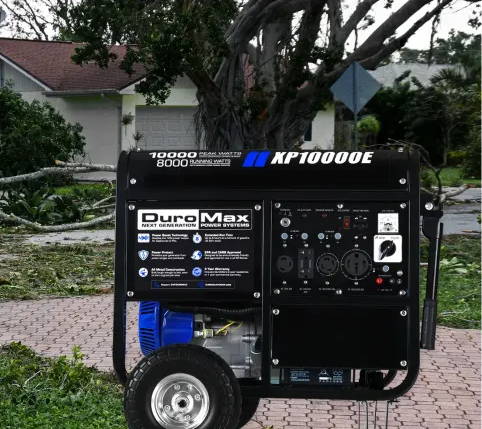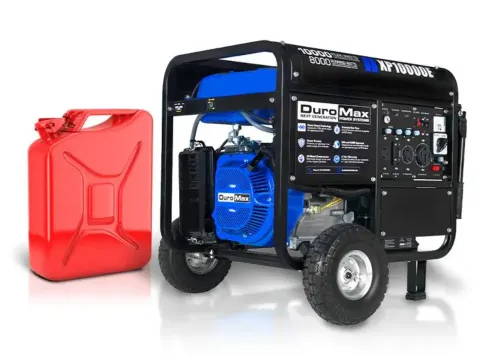 Inquipped with a large 8.3-gallon fuel tank, this generator provides an extended runtime of up to 10 hours at 50% load, allowing you to tackle demanding tasks without interruption. The electric start feature ensures effortless and quick ignition, while the low oil shut-off sensor safeguards the engine from potential damage.
Thanks to its heavy-duty steel frame and rugged all-terrain tires, this generator is built to withstand the toughest conditions. Whether you need reliable power for emergency situations, outdoor events, or construction projects, the XP10000E is ready to handle it all with ease.
Transporting the generator is a breeze, thanks to the integrated handle and wheel kit. You can easily maneuver it to your desired location without straining your back. The compact design and foldable handles make storage hassle-free, saving you valuable space in your garage or storage area.
Don't compromise on quality or convenience. Choose the DuroMax XP10000E and experience the ultimate power solution that sets the standard for performance and reliability in the world of portable generators.