Liquid- Cooled Diesel Engine
The Kubota GL7000 Lowboy II generator saves space and the environment. Designed to have the minimum possible height while using a vertical diesel engine. Easy one-side maintenance with a large swing-up side panel for quick engine inspection and maintenance. Safety features include automatic engine shut down if the water temperature is excessive or oil pressure drops below a safe level and double circuit protectors to prevent over current damage. One-point lifting makes it easy to transport all GL series generators.
Voltage
120/240 Single-Phase
Auto Voltage Regulation
Yes
Diesel Fuel Consumption @ 50% Load
0.40 gallons/hr
Run Time @ 50% Load
18.5 Hours
Decibel Rating @ 7m
66 dbA
Transfer Switch
Automatic (Not Included)
Engine
Starting System
12-Volt Key Start
Low Oil Alert/Shutdown
Yes
Overview
Product Style
Portable Generator
Product Width
24.3 Inches
Product Height
27.5 Inches
Plugs
Put the power back in your hands with the Kubota Gl7000 Lowbot II. Ultra-compact, transportable and light, this diesel generator is ideal for smaller projects in need of a reliable power source. It's been built to withstand even the most demanding jobs and comes with the trademark quality and durability you've come to expect from Kubota.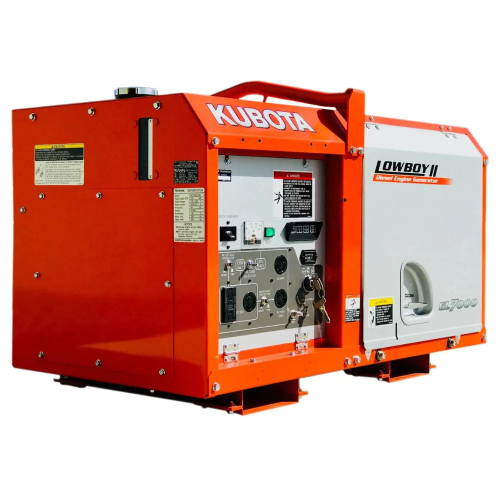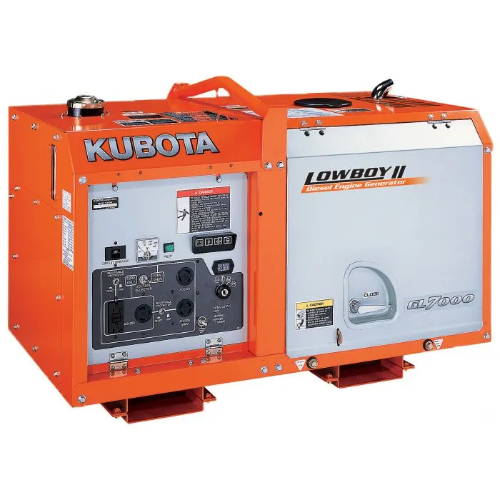 Automatic Shutdown System: This system automatically shuts the engine down when it senses the engine coolant temperature rising excessively or the oil pressure dropping below a safe level.
Double Circuit Breakers

: In addition to the overall circuit protector, each receptacle also has a circuit protector that will shut the engine down to prevent it from over current damages.

Longer Continuous Operation: The Lowboy II Series large capacity (28L) fuel tank enables longer continuous operation on a single tank of fuel.
A Skewed Rotor & Damper Winding: The wave form distortion is kept to a minimum by the skewed rotor, while the damper winding protects the generator during short circuits, regulates voltage fluctuations during condensive loads, and withstands load fluctuations during condensive and non-linear loads.
Clean Emissions: The diesel engines selected to power the Lowboy II Series produce far less soot, HC and CO emissions thanks to Kubota's original E-TVCS combustion system. Both Z482 and D722 passed the USA EPA emission Tier 4 regulation.