Compact Design & Easy Maintenance
he Kubota Model GL11000-USA is a GL Series generator with 11 kW (11 kVA) 60 Hz, of maximum output. These industrial generators are suitable for prime power and standby use. When you need the dependability of an industrial grade generator, with all the features you need, the GL Series is for you. .
Kubota generators are designed for many applications where power is needed. Kubota generators are manufactured to commercial specifications using the latest manufacturing technologies. All models are built with the quality and reliability you would expect from a leading generator manufacturer.
The brush type alternator used on this model is manufactured to exacting specifications using the latest mass production methods. Kubota generators use technology to control the voltage with a voltage variation less than 3% throughout the entire power range. That means you can use this generator with computers and sensitive electronics, safely, with no sacrifice in performance.
This model features a premium Kubota model D722, 3 cylinder, 18.9 HP, diesel fueled, liquid cooled engine with electric start. This model runs at 3600 RPM and generates 11 kW (11 kVA) 60 Hz,of Standby (emergency or maximum) power and 9.9 kW prime (continuous) power at a primary voltage of 120/240 VAC, single phase, 60 Hertz, with voltage accuracy. Single phase models are available as 120/240 VAC. This model has economical fuel use of 0.71 gallons at 1/2 load. Running time is over 10.4 hours on a typical tank.
Type
–
Rotating field single-phase AC generator
Frequency
Hz
60
Standby Output
kVA (kW)
11.0 (11.0)
Prime Output
kVA (kW)
10.0 (10.0)
Voltage – Single Phase
V
120/240
Armature Connection
–
Series
Phase / Wire
–
1/3
Power Factor
–
1.0
No. of Poles
–
2
Insulation
Class
Rotor coil; class F, Stator coil; class B
Type of Coupling
–
Direct coupled
AMPS
Single Phase 120V
A
83.3
Single Phase 240V
A
41.7
5-15R (GFCI)
–
N/A
5-20RA (GFCI)
–
2
6-15R
–
N/A
L5-30R
–
1
L6-30R
–
1
CS-6369
–
1
TERMINAL
Terminal
–
Available
DIESEL ENGINE
Type
–
Vertical, liquid-cooled,
4-cycle diesel engine
Model
–
D722
No. of Cylinders
–
3
Bore x Stroke
mm (in.)
67.0 x 68.0 (2.6 x 2.7)
Displacement
L (cu. in.)
0.719 (43.9)
Engine Speed
rpm
3600
Continuous Rated Output
kW (HP)
12.2 (16.3)
Lubricant
(API classification)
–
Above CD grade
Oil Capacity
L (qts.)
3.4 (0.9)
Coolant Capacity
L (qts.)
4.1 (1.1)
Starting System
–
Electric – 12 volt DC
SET
Fuel
–
Diesel fuel No.2
(ASTM D975)
Fuel
Consumption
at Full Load
L/h (gal./h)
4.1 (1.09)
at 3/4 Load
L/h (gal./h)
3.3 (0.86)
at 1/2 Load
L/h (gal./h)
2.7 (0.71)
at 1/4 Load
L/h (gal./h)
2.2 (0.59)
Fuel Tank Capacity
L (gal.)
28.0 (7.4)
Continous
Operation
Hours
at Full Load
h
7.0
at 3/4 Load
h
8.5
at 1/2 Load
h
10.4
at 1/4 Load
h
12.7
Battery (Ah/5h)
–
55B24R (12V x 36Ah)
Dimensions
L x W x H
mm
(in.)
1281 x 618 x 698
(50.4 x 24.3 x 27.5)
Approx. Net Weight
kg (lbs.)
295 (650)
Sound Level
(Full Load at 23 ft. [7m])
dB (A)
68
Emergency Stop System
–
In case of abnormal: oil pressure, water temperature, or when the access terminal cover is opened (terminal type only)
The Kubota GL11000 generator features heavy-duty power generation. Easy one-side maintenance with a large swing-up side panel for quick engine inspection and maintenance. Safety features include automatic engine shut down if the water temperature is excessive or oil pressure drops below a safe level and double circuit protectors to prevent over current damage. Twin-point lifting makes it easy to transport all GL series generators.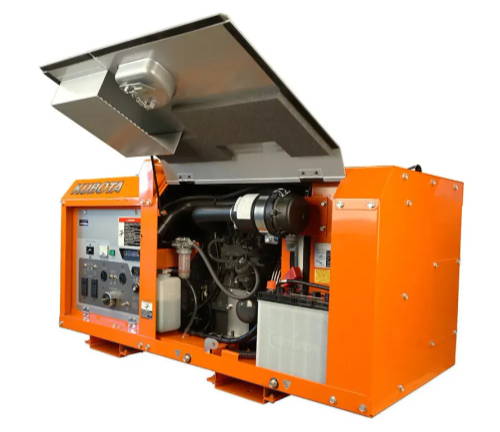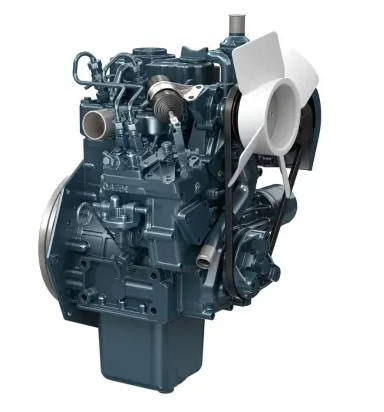 The Kubota D722 is a vertical, water-cooled, 3-cylinder, 4-cycle IDI diesel engine with a capacity of 16.4HP at 3600RPM. Don't mistake its compact size, this is one of the most hardworking, efficient and cleanest running diesel engines on the market!
Compact Design & Easy Maintenance

Large Capacity 7.4 Gallon Diesel Fuel Tank

Monitor Gauges & Automatic Safety Shutdowns

Less Noise During Operation

Plus Forklift pockets, One-Point Lifting Eye & ATS Terminal