PowerRush Technology delivers 50% More Starting Watts
Economy Mode for Quiet & Fuel-Efficient Operation
The Generac GP 3300 Generator with inverter technology can power outdoor activities from camping and RVing to tailgating and picnics or get-togethers. All the power you need without disturbing the neighbors or the wildlife.
GP 3300 inverter technology allows the generator engine to run at the speed appropriate for the connected load. Unlike regular portables that operate at a fixed speed, the engine speed varies for the power required. The 3300 Watt Generator economy mode saves fuel and reduces noise. Stand 20 feet away and have a conversation in a normal voice. The 1-gallon fuel tank provides up to 7 hours run time at 25% the rated load.
Economy mode on the Generac GP 3300 offers quieter operation and better fuel economy for loads without motors that don't turn on and off. Turning economy mode off provides power for changing loads like RV air conditioners and refrigerators.
Features
Starting System
Recoil Start with PowerDial
Low Oil Alert
Low Oil Shutdown and Alert
Idle control
Economy Mode
Receptacles
(2) 20-Amp L5-20R Household
(1) 30-Amp L5-30R Twist Lock
(2) 5-Volt USB Charging 1-Amp and 2.1 Amp
Parallel Port Set—Double Power with Parallel Kit
Dimensions
22.2L x 13.3W x 18.4H
Warranty Information
Consumer Warranty
Generac 3-Year Limited Warranty
Commercial Warranty
Generac 1-Year Limited Warranty
Engine
Cooling System
Air Cooled
Alternator
Alternator Type
120-Volt Inverter
Auto Voltage Regulation
Yes
Fuel
Fuel Tank Size
1.06 Gallons
Run Time (50% Load)
4.5 Hours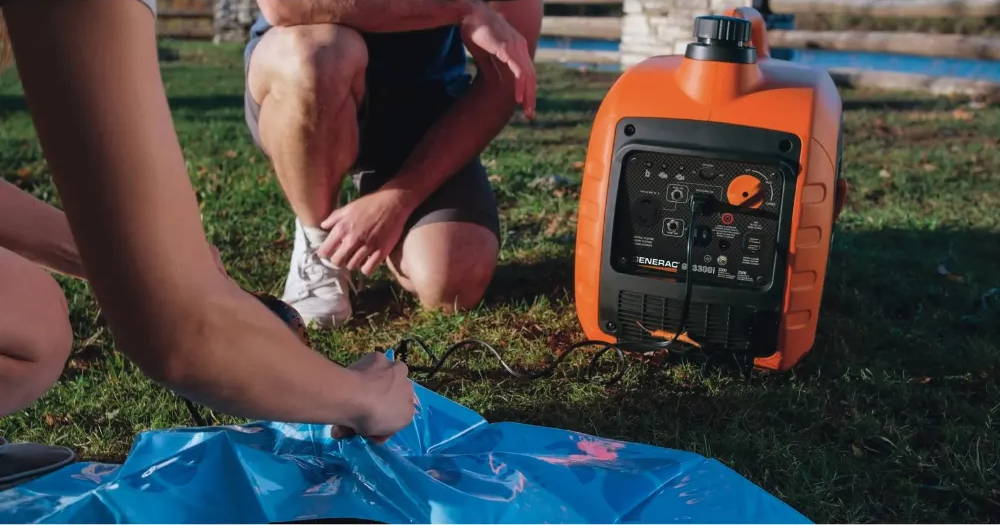 The Generac GP3300i inverter featuring advanced PowerRush technology delivers over 50% more starting capacity for your RV essentials and other motor-driven equipment - so you can do more with less. The GP3300i features convenient duplex outlets, a 30 Amp twistlock outlet and USB ports for easy connection and quiet inverter power, perfect for outdoor activities in a compact and lightweight solution.
The Generac GP3300i is powered by a 149 cc Generac OHV 4-stroke engine. It delivers 120V, runs on gasoline and offers a running wattage of 2,500W as well as a peak wattage of 3,300W. In addition, the device is parallel capable and thus, can be linked to a similar or compatible unit for added power.
The GP3300i produces a clean sine wave: thanks to a <3% Total Harmonic Distortion (THD), your sensitive electronics can be safely plugged in the AC outlets.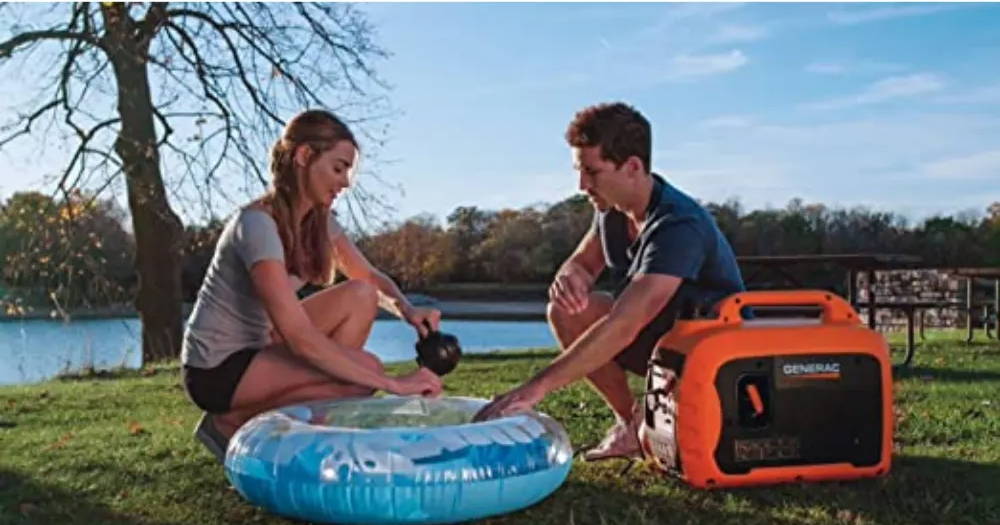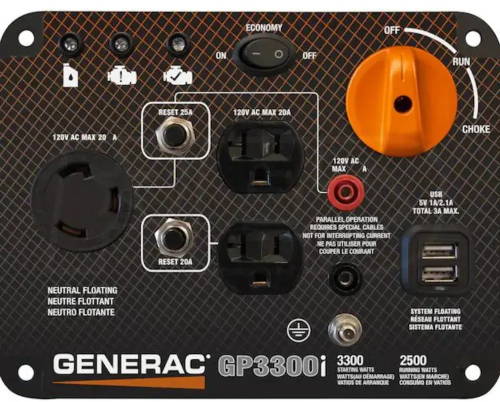 True Power™ Technology provides clean, stable power ideal for sensitive electronics, tools and appliances.
Easy to Carry compact & lightweight design with built-in handle makes transportation easy.
PowerDial™ Choke, Run, Off: three operation settings integrated into one simple-to-use dial.
Economy Mode automatically adjusts engine speed to save fuel and reduce sound emissions.
USB Ports to charge mobile devices including smart phones and tablets.
Parallel-Ready Capability Allows for connection of two inverter generators for twice the power.
Generator Status Lights visual alerts when unit is low on oil, overloaded or ready to use.