Operates at 0 degrees out of the box.
5% total harmonic distortion.
Cummins 17Kw Quiet Connect Standby Generator supplies your entire home during an outage. The RS17A is a home standby generator permanently connected to your house by an automatic transfer switch. The generator operates on your homes existing Natural Gas or LP Gas supply. It monitors the power company distribution lines 24/7, then automatically starts and runs when it detects an outage and continues to run until the utility restores power.
| | |
| --- | --- |
| Manufacturer's Warranty | 5 Yr Consumer Limited |
| Rated Watts | 17,000 |
| Start Type | Automatic w/ transfer switch (not included) |
| Engine | Cummins Onan |
| Engine Displacement (cc) | 999 |
| Fuel Consumption (NG) | 289 cu.ft/hr (full load) 213 cu.ft/hr (half load) |
| Fuel Consumption (LP) | 2.8 gal/hr (full load) 1.8 gal/hr (half load) |
| Fuel Type | Liquid Propane or Natural Gas |
| Low Oil Shutdown | Yes |
| Battery Included | No |
| Battery Required | Yes Group 51R. 450 CCA |
| Dimensions L x W x H (in.) | 34.1 x 36 x 27.3 |
| Product Weight (lbs.) | 540 lbs. |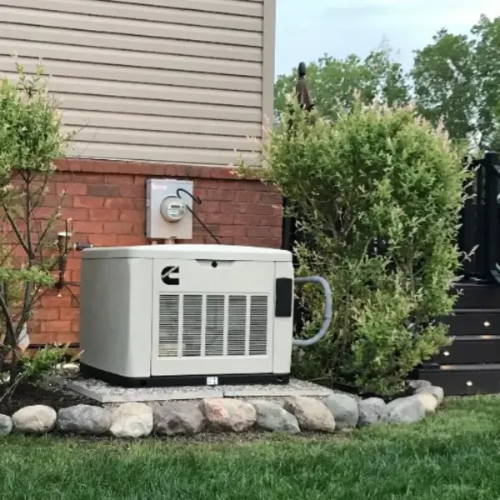 Powerful starting capability allows the Cummins RS17A to start a 5-ton air conditioner while operating a full household load. The RS17A supplies clean power to sensitive electronics with less than 5% total harmonic distortion. Under steady conditions, the RS17A maintains voltage within 1.25 percent and frequency never varies more than 1.25 percent. Clean, worry free power you can count on. The Cummins QSJ999G engine powers with genreator and can run on propane or natural gass.
The compact and sleek design allows the generator to fit into a 34 x 36 x 27- inch enclosure. You can install the RS17A as little as 18-inches from your home since it meets NFPA 37 code for installation. With its patented sound technology and corrosion resistant aluminum exterior and galvanized steel interior sound levels are 65dBA, one of the quietest in its class.
This generator operates at 0 degress temperatures right out of the box to ensure your family is never left in the dark.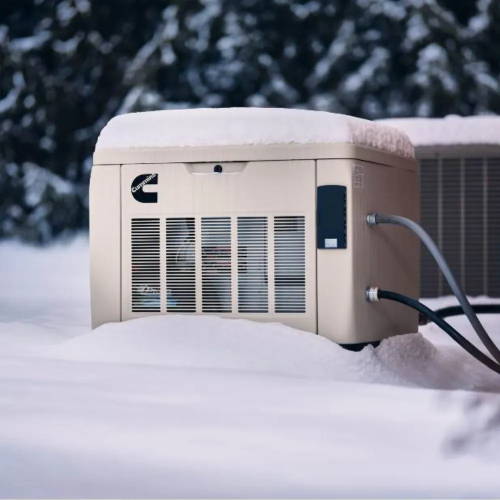 Weather Protective Aluminum Exterior and Galvanized Steel Interior.

Less than 5% Total Harmonic Distortion

Crank Only Exercise Mode.

Load Management Capability

Cold Weather Equipped