CO Guard Carbon Monoxide Shutdown
These compact and easy-to-operate generators provide consistent power allowing you to stay connected and keep multiple items powered simultaneously.With push button electric start or remote start, the Briggs & Stratton P4500 inverter generator offers quiet, consistent portable power that is ideal for RV, campsite and other recreational use. Easy Transport- Built-in wheels and telescoping carry handle, light enough to be transported by one person Lasting Power- Run time up to 16 hours(at 25% load) Safety In Mind- Low oil alert and carbon monoxide shutdown technology Proven Reliability- 3-Year Briggs & Stratton Warranty
Engine Displacement (cc)
224
Fuel Tank Capacity (gal)
3.5
Run Time
16 hrs @ 25% load
Alternator
Permanent Magnet
Automatic Voltage Regulation
true
Consumer Warranty (Product) **
3-Year Limited
Commercial Warranty (Product) **
1-Year Limited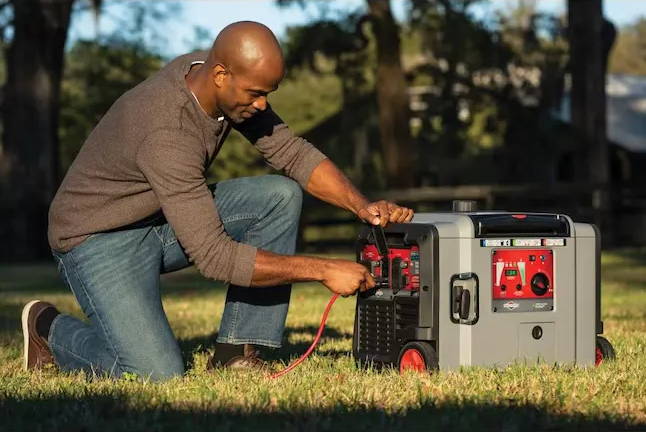 Engineered to be compact, lightweight and quiet, the new P 4500 inverter generator has a protective hard shell to safeguard the unit from dirt and debris, never-go-flat wheels and a telescoping handle to make moving it around an RV site a breeze. A convenient push-button electric start turns on the Briggs & Stratton 224 cc engine to deliver 4500 starting watts and 3700 running watts.
Its multi-functional digital display panel allows operators to monitor power usage, fuel level and run time. 4 household 120-Volt outlets, one 120-Volt 30 Amp RV outlet and 2 USB adaptors offer the operator flexibility to power a combination of lights, kitchen appliances and smart devices. Innovative inverter technology automatically adjusts the engine speed to lower the noise level and reduce fuel consumption. The P 4500 also features Quiet Power Technology and is backed by a 3-year limited warranty.
One of the many P4500 PowerSmart's features is the data center, included in its control panel, which conveniently provides information on the fuel level, power output and lifetime run hours and thus, helps you monitor its activity and status.
In addition to this info, some light indicators allow you to instantly see if the generator is ready, the oil level is too low and the generator is overloaded.