Circuit Breaker Protection
The DuroMax XP5500EH is designed as a user-friendly unit that provides 5,500 watts of POWER. Dual Fuel Technology allows you to operate your generator on gas or liquid propane, giving you the freedom and flexibility of fuel choice. This durable unit is perfect on the jobsite and is easy to transport for tailgating or camping. The XP5500EH packs a punch and will keep you powered at home, on an RV trip, or at work!
Gasoline
Peak Wattage
5,500
Running Wattage
4,500
Running Amperage at 120V
37.50
Running Amperage at 240V
18.75
Runtime at 25% Load
19
Runtime at 50% Load
9
Propane
Peak Wattage
5,225
Running Wattage
4,275
Running Amperage at 120V
35.63
Running Amperage at 240V
17.81
Runtime at 25% Load
15
Runtime at 50% Load
8
Engine & Emission Specifications
Engine Manufacturer
DuroMax Power Equipment
Engine Type
4-Stroke
Valve Type
OHV
Engine Cooling Type
Forced Air
Engine Size
224 cc
Engine Speed
3600 RPM
Starting Type
Rocker Switch
Electric Start
Yes
Recoil Start
Yes
Fuel Delivery System
Carburetor
Fuel Types
Gasoline and Propane
Oil Cooling Type
Splash
Recommended Oil
10W-30
Recommended Oil Types
Blended, Conventional, or Synthetic
Oil Capacity
20.3 fluid oz
Suggested Propane Tank Size
20 lbs. minimum
Automatic Low Oil Shutdown
Yes
Cast Iron Sleeve
Yes
Bearing Type
Stainless Steel Ball Bearing
EPA Certified
Yes
CARB Certified
Yes
50 State Emissions
Yes
Panel Specifications
GFCI Outlets
Yes
Volt Meter
Analog
5-20R
2
L14-30R
1
12V Post
1
Generator Specifications
Manufacturer
DuroMax Power Equipment
Part #
XP5500EH
Voltage
120/240 Volts
Frequency
60 Hertz
GFCI Outlets
Yes
Propane Hose & Regulator
Included
Winding Material
100% Copper Windings
Automatic Voltage Regulator
Yes
Battery Type
12V SLA
Battery Included
Yes
RV Ready
Yes
Home Backup Ready
Yes
Fuel Tank Capacity Gasoline
4 Gallons
Fuel Gauge
Yes
All Metal Construction
Yes
Product Dimensions
25"-Long x 22"-Wide x 22"-High
Product Dry Weight
124-lbs
Product Weight
136-lbs
Volume (db)
69 dB
UPC
811640014667
Warranty
3 Year
Wheel & Handle Kit
Included
Wheel Type
Metal Hub
Wheel Diameter
8-Inches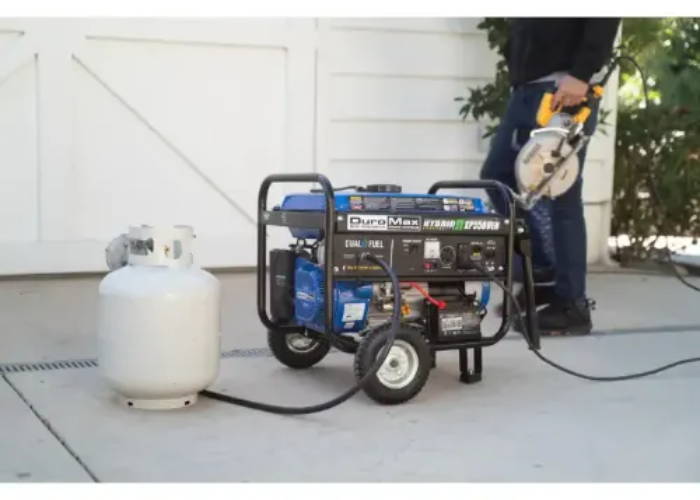 The Duromax XP5500EH Generator with Electric Start and a powerful 224cc engine supplies plenty of power for home backup during outages or RV power. This unit can power air conditioners, furnaces, large appliances, and pumps, plus lights and conveniences. This Dual Fuel operation allows the engine to run on gasoline or LP Propane. Rated for 4500 running watts on gasoline and 4275 running watts on LP Propane.
The XP5500EH comes equipped with a variety of outlets to suit your needs. This generator features our MX2 Power Boost, which doubles the 120V power for appliances and RVs.
The Duromax XP5500EH is equipted with Surge Arrest.his protects your generator and appliances from high votlage spikes caused by changes in electrical loads.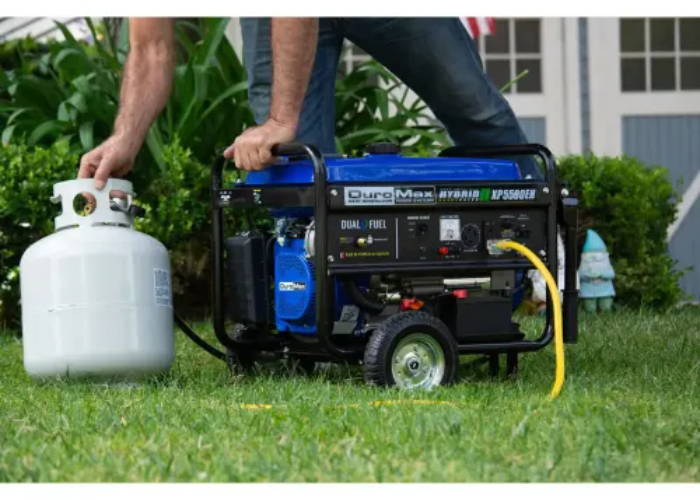 CO Alert technology

All copper wiring

Individual Circuit Breakers

Noise Reducing Muffler with Spark Arrestor

Low Oil Sensor

Digital Multi-Meter

Front Facing Fuel Interface