The DuroMax XP4850EH is designed as a user-friendly unit that provides 4,850 watts of power. Dual Fuel Technology allows you to operate your generator on standard gasoline or cleaner-burning liquid propane. This Dual Fuel workhorse packs a punch and will keep you powered at home, work, and play.
| | |
| --- | --- |
| Peak Wattage | 4,850 |
| Running Wattage | 3,850 |
| Running Amperage at 120V | 32.08 |
| Running Amperage at 240V | 16.04 |
| Runtime at 25% Load | 23 hours |
| Runtime at 50% Load | 10 hours |
Propane
Peak Wattage
4,608
Running Wattage
3,658
Running Amperage at 120V
30.48
Running Amperage at 240V
15.24
Runtime at 25% Load
18 hours
Runtime at 50% Load
9 hours
Engine & Emission Specifications
Engine Manufacturer
DuroMax Power Equipment
Engine Type
4-Stroke
Valve Type
OHV
Engine Cooling Type
Forced Air
Engine Size
210cc
Engine Speed
3600 RPM
Starting Type
Rocker Switch
Electric Start
Yes
Recoil Start
Yes
Fuel Delivery System
Carburetor
Fuel Types
Gasoline and Propane
Oil Cooling Type
Splash
Recommended Oil
10W-30
Recommended Oil Types
Blended, Conventional, or Synthetic
Oil Capacity
20.3 fluid oz
Suggested Propane Tank Size
20 lbs. minimum
Automatic Low Oil Shutdown
Yes
Cast Iron Sleeve
Yes
Bearing Type
Stainless Steel Ball Bearing
EPA Certified
Yes
CARB Certified
Yes
50 State Emissions
Yes
Panel Specifications
GFCI Outlets
Yes
Volt Meter
Analog
5-20R
2
L14-30R
1
12V Post
1
Generator Specifications
Manufacturer
DuroMax Power Equipment
Part #
XP4850EH
Voltage
120/240 Volts
Frequency
60 Hertz
GFCI Outlets
Yes
Propane Hose & Regulator
Included
Winding Material
100% Copper Windings
Automatic Voltage Regulator
Yes
Battery Type
12V SLA
Battery Included
Yes
RV Ready
Yes
Home Backup Ready
Yes
Fuel Tank Capacity Gasoline
4 Gallons
Fuel Gauge
Yes
All Metal Construction
Yes
Product Dimensions
25"-Long x 24"-Wide x 21"-High
Product Dry Weight
122-lbs
Product Weight
132-lbs
Volume (db)
69 dB
UPC
811640013783
Warranty
3 Year
Wheel & Handle Kit
Included
Wheel Type
Metal Hub
Wheel Diameter
8-Inches
The Duromax XP4850EH Generator is the ultimate solution for all your power needs, whether you're at home, on a job site, or exploring the great outdoors. With its exceptional power output, durable construction, and dual fuel capability, this generator provides the reliability and versatility you demand.
One of the standout features of the Duromax XP4850EH is its ability to run on both gasoline and propane. This dual fuel capability provides you with greater flexibility and convenience. Gasoline is readily available and ideal for everyday use, while propane offers extended runtimes, cleaner emissions, and increased fuel storage life. With a simple flip of a switch, you can switch between fuels and enjoy uninterrupted power for longer durations.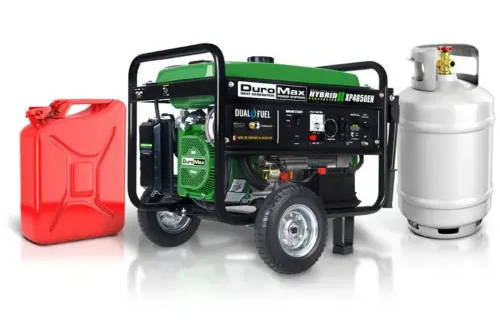 Equipped with a robust 7 HP, 210cc air-cooled engine, the Duromax XP4850EH delivers an impressive surge power of 4,850 watts and a continuous running power of 3,850 watts. This remarkable performance ensures that you can power a wide range of appliances, tools, and equipment effortlessly. From keeping your essential household appliances running during power outages to operating power tools at a construction site, this generator is up to the task.