Ultra quiet 50dB noise level at 1/4 load.
CO Minder provides essential protection from harmful carbon monoxide
Advanced inverter technology in the Honda EU3000iS Generator provides 3000 watts of super quiet power capable of running many types of appliances, including computers and other sensitive equipment. It can run up to 19.6 hours at 1/4 load, and comes with CO-MINDER™ for extra peace of mind. An excellent source of power for most 13,500 BUT RV A/C units and basic home backup, the EU3000iS is a great bang for the buck.
This Honda EU3000is Portable Inverter Generator produces up to 3000 watts to power your furnace, fridge, microwave, most 13,500 BTU RV AC units and more. Plus, it is ultra quiet with a 50dB noise level at 1/4 load — quieter than normal conversation. It features CO Minder for essential protection from harmful carbon monoxide and covered outlets protect against the elements.
Designed for the ultimate in quality, portability, and convenience, the Honda generator lineup is perfect for any trip to the outdoors. Find your perfect form of portable power, then go find your adventure – wherever it takes you.
Engine
Engine Brand
Honda GX200
Displacement(cc)
196cc

Power
AC Max. Output
120V 3000W (25A)
AC Rated Output
120V 2800W (23.3A)
DC Output
12V, 144W (12A)

Engine
Starting System
Electric with recoil backup
Fuel Capacity
3.4 gallons
Run Time
7.2 hours/rated load, 20 hours/quarter load

Dimensions
Length (in.)
25.8 inches
Width (in.)
18.9 inches
Height (in.)
22.4 inches

Emission, Vibration and Noise
Noise Level
58 dB(A) @ rated load, 49 dB(A) @ 1/4 load

Dimensions
Weight (lbs.)
134 pounds

Warranty
Commercial Warranty
3 years
Residential Warranty
3 years

Power
Connection Outlets
20A 125V Duplex NEMA 5-20
30A 125V locking plug NEMA L5-30
Honda's EU Series Super Quiet generators represent the leading edge of portable power and technology.
The Super Quiet Series features an enclosed body that results in noticeably quieter performance. Designed for the ultimate quality, portability, and convenience, these models are perfect for any trip to the great outdoors. All of the EU model generators are ultra-quiet, making them ideal for camping, RVing, public events, or any situation where quiet operation is critical.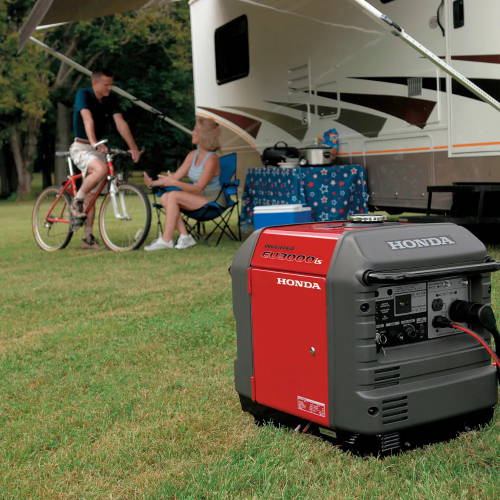 Powering sensitive electronics requires clean, stable electricity. The Honda EU3000iS Inverter Generator delivers electricity as reliable as the power you get from outlets in your home. Feel confident safely running computers, televisions, phones, kitchen appliances and more without fear of interruption or damage to equipment.
3000 Watts (25A) of Honda inverter 120V AC power

Advanced inverter technology provides reliable power to computers and other sensitive equipment

Ultra quiet 50dB noise level @ 1/4 load (quieter than normal conversation)

Eco Throttle offers improved fuel efficiency and reduced noise levels
CO Minder provides essential protection from harmful carbon monoxide

Covered outlets protect against the elements

Included 9.1Ah/190CCA non-spillable lead acid battery recharges while generator is running