The DuroMax XP15000E is our most powerful gas-powered generator and is perfect for home backup and jobsites. This unit provides the power of a large standby generator while occupying the footprint of a portable. Equipped with a commanding 713cc V-twin engine, the XP15000E is perfect for anyone looking for a reliable power source.
Gasoline
Peak Wattage
15,000
Running Wattage
12,500
Running Amperage at 120V
104
Running Amperage at 240V
52
Runtime at 25% Load
18
Runtime at 50% Load
8
Engine & Emission Specifications
Engine Manufacturer
DuroMax Power Equipment
Engine Type
4-Stroke
Valve Type
OHV
Engine Cooling Type
Forced Air
Engine Size
713cc
Engine Speed
3600 RPM
Starting Type
Key Switch
Electric Start
Yes
Recoil Start
No
Fuel Delivery System
Carburetor
Fuel Types
Gasoline
Oil Cooling Type
Pressure & Splash
Recommended Oil
10W-30
Recommended Oil Types
Blended, Conventional, or Synthetic
Oil Capacity
54.1 fluid oz
Automatic Low Oil Shutdown
Yes
Cast Iron Sleeve
Yes
Bearing Type
Stainless Steel Needle Bearings
EPA Certified
Yes
CARB Certified
Yes
50 State Emissions
Yes
Panel Specifications
GFCI Outlets
Yes
Volt Meter
Digital
Hour Meter
Yes
5-20R
4
L5-30R
1
L14-30R
1
14-50R
1
Generator Specifications
Manufacturer
DuroMax Power Equipment
Part #
XP15000E
Voltage
120/240 Volts
Frequency
60 Hertz
GFCI Outlets
Yes
Winding Material
100% Copper Windings
Automatic Voltage Regulator
Yes
Battery Type
12V SLA
Battery Included
Yes
RV Ready
Yes
Home Backup Ready
Yes
Fuel Tank Capacity Gasoline
10.6 Gallons
Fuel Gauge
Yes
All Metal Construction
Yes
Product Dimensions
30"-Long x 33"-Wide x 35"-High
Product Dry Weight
380-lbs
Product Weight
418-lbs
Volume (db)
83 dB
UPC
811640014742
Warranty
3 Year
Wheel & Handle Kit
Included
Wheel Type
Metal Hub
Wheel Diameter
12-Inches
The Duromax XP15000E is a top-of-the-line portable generator designed to provide you with unparalleled power and reliability. Whether you're in need of backup power during emergencies, working on a remote job site, or looking for a reliable power source for your outdoor adventures, this generator is built to exceed your expectations.
With a robust 713cc engine the XP15000E is a true workhorse. It boasts an impressive surge power of 15,000 watts and a continuous power output of 12,500 watts, giving you the ability to run multiple heavy-duty appliances and tools simultaneously. From power-hungry equipment to essential household appliances, this generator can handle it all.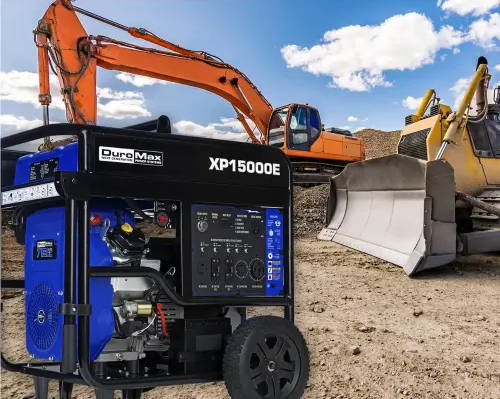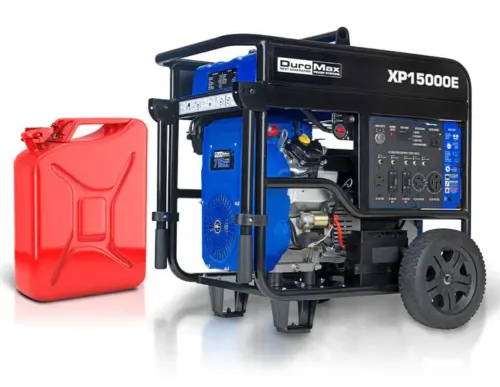 Equipped with a convenient electric start, the XP15000E ensures a hassle-free operation with just a turn of a key. Its fully featured power panel provides easy access to controls, including a voltmeter, circuit breakers, and multiple outlets for various power needs. The generator also offers both 120V and 240V receptacles, enabling you to power a wide range of devices and appliances.
Designed with mobility in mind, the XP15000E features rugged all-terrain tires and a sturdy, foldable handle, making it easy to transport and position wherever power is required. Its heavy-duty steel frame and solid construction ensure durability and longevity, allowing you to rely on this generator for years to come.
Safety is a top priority, and the XP15000E has you covered. It includes a low oil shut-off sensor that safeguards the engine from potential damage by automatically shutting down the unit when oil levels become too low. While the automatic voltage regulator (AVR) ensures stable and clean power delivery for sensitive devices.
During power outages or emergencies, the XP15000E can be a true lifesaver. It offers an impressive runtime of up to 8 hours at 50% load on a single tank of fuel, thanks to its large 10.6-gallon fuel tank. This generator provides you with peace of mind, knowing that you have a reliable backup power source to keep your essential appliances running smoothly.