Surge Arrest-Protects your generator from power surges
Power Boost Technology-Double the 120V power for applications and RV's
Be prepared for the big storm or any power outage with the flexibility of the Duromax 10,000-Watt Hybrid Dual Fuel Generator. With its ability to operate on gasoline or liquid propane, you will be able to provide safe, reliable power when you need it while increasing your generator's run time. By also operating on propane, the LPG fuel will not gum up or foul your generator's carburetor while still giving you quick, reliable starts every time. Duromax generators are perfect for any application where portable power is needed: whether it's because of a natural disaster or camping in the woods, Duromax will deliver.
Sku
XP10000EH
Brand
DuroMax Power Equipment
Gasoline
Peak Wattage
10,000
Running Wattage
8,000
Running Amperage at 120V
66.67
Running Amperage at 240V
33.33
Runtime at 25% Load
22
Runtime at 50% Load
10
Propane
Peak Wattage
9,500
Running Wattage
7,600
Running Amperage at 120V
63.33
Running Amperage at 240V
31.67
Runtime at 25% Load
17
Runtime at 50% Load
9
Engine Specifications
Engine Type
4-Stroke
Valve Type
OHV
Engine Cooling Type
Forced Air
Engine Size
439cc
Engine Speed
3600 RPM
Starting Type
Key Switch
Electric Start
Yes
Recoil Start
Yes
Idle Control
No Load Low Idle
Fuel Delivery System
Carburetor
Fuel Types
Gasoline and Propane
Oil Cooling Type
Splash
Recommended Oil
10W-30
Recommended Oil Types
Blended, Conventional, or Synthetic
Oil Capacity
37.2 fluid oz
Suggested Propane Tank Size
40 lbs. minimum
Automatic Low Oil Shutdown
Yes
Cast Iron Sleeve
Yes
Bearing Type
Stainless Steel Ball Bearing
EPA Certified
Yes
CARB Certified
Yes
50 State Emissions
Yes
Panel Specifications
GFCI Outlets
Yes
Volt Meter
Analog
5-20R
2
L5-30R
1
L14-30R
1
14-50R
1
12V Post
1
Generator Specifications
Voltage
120/240 Volts
Frequency
60 Hertz
GFCI Outlets
Yes
Propane Hose & Regulator
Included
Winding Material
100% Copper Windings
Automatic Voltage Regulator
Yes
Battery Type
12V SLA
Battery Included
Yes
RV Ready
Yes
Home Backup Ready
Yes
Fuel Tank Capacity Gasoline
8.3 Gallons
Fuel Gauge
Yes
All Metal Construction
Yes
Product Dimensions
29"-Long x 30"-Wide x 26"-High
Product Dry Weight
220-lbs
Product Weight
236-lbs
Volume (db)
72 dB
UPC
811640013790
Warranty
3 Year
Wheel & Handle Kit
Included
Wheel Type
Metal Hub
Wheel Diameter
10-Inches
The DuroMax XP10000EH is the first unit to feature an OHV Air Cooled Engine.You will not find another unit with this large of an engine. This powerplant produces the 10,000 watts of peak power that feeds the fully functional power panel. The Idle Control which enables the motor to maintain RPM's under varying loads. This help maximizes fuel efficiency while minimizing the noise output. By utilizing an engine, the XP10000EH can handle heavy electrical loads as well as easily power multiple small load appliances simultaneously.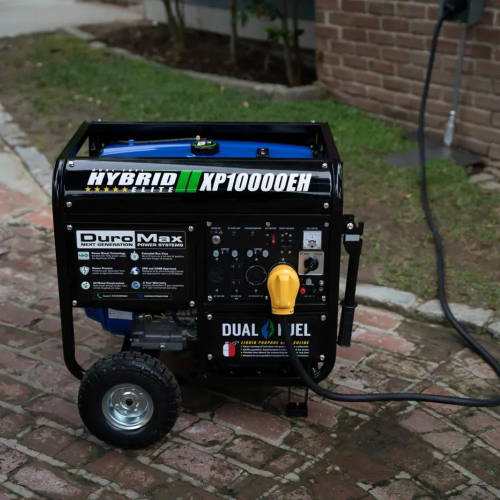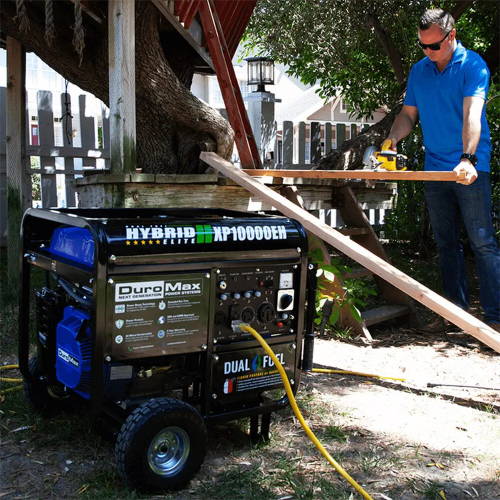 Designed for Safe and Easy Operation, the XP10000EH features a user-friendly, Electric Start, that's as simple as starting your car. It is also equipped with a recoil start in case of the battery being drained. Solid-Fill tires are also standard, they will never run flat, and high leverage handles that make it easy to transport over every terrain. The attached oversized noise reducing Muffler has a built-in Spark Arrestor for safe use in mandated camping areas and jobsites.
The XP10000EH's control center features a handy voltmeter that allows you to easily monitor power output anytime to aid you with the monitoring of its status and activity.
In addition to this info, when its oil levels are insufficient, you will be informed by the featured light indicator.
The generator includes a built-in fuel gauge, a quick, easy and convenient method of checking the device's gas level.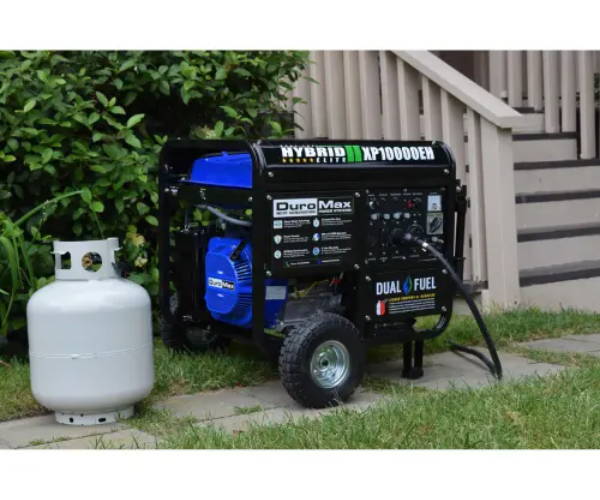 DuroMax 419cc engine

Runs on gasoline or propane

DuroMax OEM engine

Electric start for convenience

Super-quiet exhaust with built-in spark arrestor

Circuit protectors

Oil alert light

Recharge indicator

Volt meter

Auto throttle